Why Profitable Printing Companies Cost Jobs
Studies show that highly profitable printing companies implement job costing practices. Job costing is the processes of tracking the actual cost incurred to produce an order or job and benchmarking it against revenue. Job costs include labor, equipment, overhead, materials, outside services, and other manufacturing costs.
The benefits of job costing are significant. Using job costing will allow you to identify the most and least profitable areas of your business, so that you can focus on the profitable elements, and try to make the less profitable aspects of your business more efficient. It enables you to hone in on the cost performance of individual jobs, products, customers, production equipment, departments, employees, and your overall business.
Job Costing with Budgeted Hourly Cost Rates (BHR)
Budgeted hourly cost rates are an important component of establishing a job's cost. Budgeted hourly cost rates are a best practice used by the printing and packaging industry for over 100 years. A budgeted hourly cost rate is your out-of-pocket cost associated with each piece of production equipment in your shop. Budgeted hourly cost rates are comprised of operator and helper wages, benefits, rent, leases, equipment depreciation, supplies, utilities, insurance, administrative costs, overhead, and other expenses.
The objective of BHRs is to recover 100 percent of your costs with the production equipment and labor hours you bill out (i.e. prepress, platemakers, presses, digital copiers, wide-format printers, cutters, folders, handwork, etc.).
Budgeted hourly cost rates software such as CostRatesAdvisor.com helps printing companies calculate their hourly cost rates using industry formulas and best practices.
Record Keeping
There are several approaches for tracking job costs. The simplest and least expensive method for tracking costs is to have employees write their time on the back of a job ticket or a production time card form. Upon completion of each job, multiply the hours worked by the production equipment hourly cost rate and run a total to get the job's total cost.
A more efficient and accurate method for tracking job costs is putting computers on the shop floor for the employees to record their activities. There are over 50 shop data collection software products on the market to choose from, varying in capabilities, and ranging in price between $199 and $50,000.
Reporting
There are several key detail and summary reports a company should have for analyzing job costs.
An ""Estimate verses Actual Report"" is the most important job costing report. It compares a job's estimated costs to actual costs, identifying any cost variances for each phase of a job, the profit earned on the job, and inefficiencies in estimating or production costs. The results will help you to create more accurate and profitable quotes for future jobs; or improve your production processes. An Estimate verses Actual Report will also help ensure that the customer is properly being invoiced for all the work you did.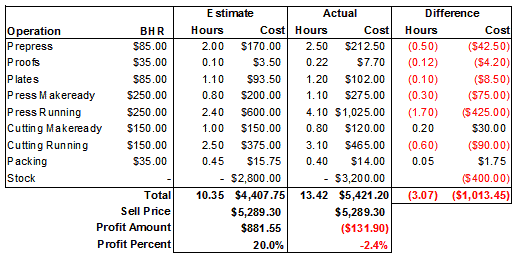 A job costing summary report that shows cost variances for a range of jobs by product type is essential for determining your most profitable products (your niche), where you need to improve, and support future pricing decisions on similar products.
A job costing summary report that shows a range of jobs by customer will identify your least and most profitable customers and can be a catalyst for future pricing and markup strategies for individual customers.
Other Benefits
Profitable companies have experience many other benefits of implementing job costing including:
Forecasting costs and resources necessary to provide particular services or products
Defining sales and marketing strategies for products
Measuring and improving the performance the operation
Support for future equipment investments
Identifying spoilage and defects to take corrective actions
Job costing provides knowledge that can make your business more profitable and easier to manage. When done well, it separates the profitable companies from those that struggle to make a profit.
By: Craig L Press
President
Profectus, Inc.
Related Items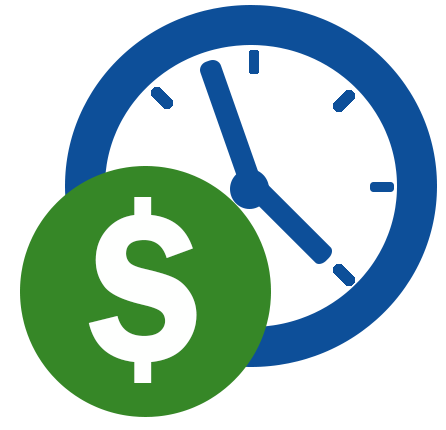 CostRatesAdvisor.com - Budgeted hourly rates and cost analysis software...
FinancialRatiosAdvisor.com - Financial analysis and industry ratios software...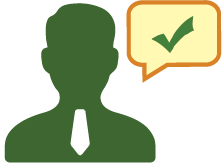 Business management consulting solutions that boost sales and profits...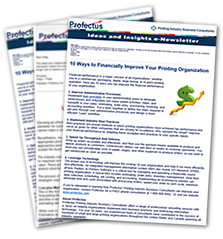 More Articles...